20 Most Promising Infrastructure Management Service Providers - 2018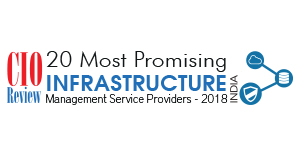 For any sized company or government agency, the rapidly expanding implementation of today's technology creates unique and critical business challenges. Information Technology (IT) infrastructure management (not to be confused with the broad responsibilities of IT management) is the administration and management of essential operational elements to effectively, efficiently, and proactively utilize technology, information, and data. These elements include the computers, servers, networking, data, storage, physical and virtual facilities as well as software, processes, policies, staffing, training, security, mobile and virtual functionality, and cloud-based services that make up the IT infrastructure. Overall, IT infrastructure management is closely aligned with overall corporate operations, strategies, and goals. The increased adoption of cloud services has encouraged organizations, especially SMEs, to migrate the IT infrastructure to cloud service providers (CSPs). The cloud deployment mode has encouraged many organizations to outsource IT infrastructure through private & public cloud and adopt a subscription model rather than licensing of products. However, the migration of legacy systems and network latency has made it imperative for large enterprises to implement digital technologies and adopt the cloud model. While each model has its own set of challenges, the competitive market place has spurred IMS providers to innovate their delivery models, as well as their service offerings. On the flipside, customers are moving workloads from traditional shared, virtualized and dedicated infrastructure products to increasingly specialized infrastructure and application environments, including IaaS and SaaS. We understand the organizational need to modernize the IT Infrastructure across several heterogeneous sources and technology trends. Therefore, we present to you a list of 20 Most Promising IMS Providers 2018. Being closely scrutinized by a distinct panel of judges including CEOs, CIOs, CXOs, analysts and CIOReview editorial board, we believe that these vendors can set standards and help enterprises accelerate high productivity, cost reduction, good quality & performance.
We present to you CIOTechOutlook 20 Most Promising Infrastructure Management Service Providers - 2018.
Top Infrastructure Management Service Providers
| | |
| --- | --- |
| Aletheia Technologies | Enables solutions for Data Center & Endpoint Compute, Virtualization, Networking & Security, Servers & Storage, and Data Base Failover Cluster. |
| Alliance Pro | Renders IT infrastructure management services & solutions like licensing, implementation, upgrade & migration, consulting services, application support and infrastructure support systems. |
| Allied Digital | Avails Infrastructure-as-a-Service, Infrastructure Management Services, Managed Security Services, Information Security Surveillance Service, and Professional Services. |
| AltF9 Technology Solutions | Competent in securities, networking, open source, unified communication, cloud solution, system integration, business process outsourcing, application and infrastructure outsourcing. |
| Aruba | A provider of next-generation network access solutions for the mobile enterprise |
| ComtechRIM | The service portfolio includes Resource Management, IT Infrastructure Management, Supervised Deep Learning, Data Analytics, Software Development and VOIP services. |
| ComUnus Technologies | Facilitates operating systems services, middleware services, mobility solutions, custom application development & maintenance, managed services and product development. |
| Converge Systems & Services | Provides turnkey solutions for Data Infrastructure & IT Consultancy which includes Servers, Storage, Workstation and PCs. |
| Emerio Technology | A provider of datacentre management services, managed WAN and server management services for enterprises. |
| EVRY India | Core expertise revolves around data engineering & analytics, enterprise mobility, infrastructure management, IoT, cloud services, AI, Cognitive computing, VR and AR. |
| Karvy Innotech | Offering portfolio spans IT and System Integration services, value-added distribution of enterprise technology and consumer mobility products. |
| Netlabs Global | Specializes in System Integration, Managed Services, Cloud, Data center Hosting and IT Transformation. |
| Progression Infonet | Specialities revolves around private cloud, enterprise servers, DRaaS, Remote Infrastructure Monitoring & Management and Tier 3+ Data Center. |
| SapphireIMS | An IT service management enabler that delivers end-to-end IT Service Management functionality through a modular and integrated package. |
| SNDK Corp | Focuses on Cloud Solutions, Virtualization, Networking & Security, SaaS Cloud, Desktop Support, and Application Development. |
| S-squad Global | An IT service company that delivers Managed IT solutions, Infrastructure services and next-generation cloud based services. |
| Sun Plus Software Technologies | Expertise revolves around Liferay, Mobility, Healthcare, Education, e-governance, and Microsoft technologies. |
| TrendzSet Soft Solutions | Builds capabilities in remote infrastructure management, Server Management, Network Management, Application Management, and Database Management. |
| US Software Services | Services range from IT Consulting to Application Engineering, Business Intelligence & Datawarehousing, Testing, Infrastructure Management, Cloud Computing, Package Implementation and Professional... |
| ValueLabs | Provides Remote Infrastructure Management (RIM) services to start-ups, mid-sized and large companies. |